What's In the Content Hacker Academy Learn How to Build a Website Workshop?
One-hour video class with Julia McCoy, going over what platform to build your site on, what to delegate so you avoid burnout, and more! Learn real website-building knowledge in the shortest amount of time possible. Led by Julia McCoy.
This hour-long class is broken up into short videos that you can play over and over again. Your videos, templates, and student workbook unlocks immediately when you enroll.
Agencies & Teams
Make your team more streamlined by teaching the important skill of website building and maintenance. Ask your boss to secure seats so your marketing team joins in this workshop and increases their website knowledge across the board. Bosses, get ready to see your team uplevel!

Marketers
Marketers can learn how to build a strong, lead-generating website with this workshop, which includes Julia's templates and in-depth advice on building a website. This is perfect for the solopreneur, marketer, or entrepreneur ready for their website to hit NEXT LEVEL.
Tired of half-heartedly telling potential clients you "don't have a website yet"?
Sure, it's frustrating.
In today's fast-paced digital world, you're expected to have a website, especially if you're selling digital products or services.
But maybe there's a reason you haven't yet built a site.
You're busy.
You don't have a designer's bone in your body.
You're confused by all the tech: hosting, domain, plugins, design, and tools.
And yes, you can hire someone on Upwork to build you a quick, cheap site…but is a mediocre website that doesn't generate a ton of leads and revenue really better than no website at all?
(I didn't think so.)

The Secret Behind Why You Haven't Yet Built Your Website
(It's Not What You Think!)
Ok, quick question.
If someone came up to you and asked you if you would spend $200 on a marketing mechanism that would potentially earn you $5 million in the future…
…would you say yes?
I bet you would. 💯
Now, what if that same person told you that you would have to put in extra work hours and learn a new skill to achieve that same result?
Would you still say yes?
Yup.
That's because as entrepreneurs, we're willing to invest in high-ROI mechanisms.
So what I think is, the real reason you haven't yet built your website isn't because you're not a tech nerd or you're too busy.
It's because you don't believe in the outstanding potential of a great website.
Should you believe it?
YES.
Because the figures I talked about, they're real.
Back in 2011, I built a website on nothing but $75, and in the following 10 years, I earned back seven figures in sales.
You can do the same, and the truth is, it's not that hard.

Learn to Build a Powerful Lead-Generating Website (Hint: Not All Websites Are Created Equal)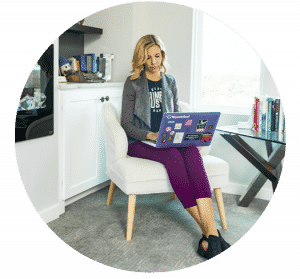 Ok, quick disclaimer.
You can't just throw together a few web pages and call it a great website.
The truth is, there are billions of websites out there, and most of them fall flat and never grow a following or bring a business enough revenue.
In fact, 90% of online content gets ignored.
You don't want to be part of that sad pool.
That's why when the time comes to build your own site…
…you need to do it right.
You need to:
Follow all the right steps involved in planning a website that converts
Include the critical ingredients that guarantee your site succeeds at pulling in a ton of leads and revenue
Choose the right domain (this can mean the difference between success and failure)
Use the right tools
Avoid the common pitfalls that make most websites go wrong
I know, it sounds like a lot of work.
But what if you could learn all that and get started building and launching a powerful site in only one hour?

Learn to Build & Launch a Website: My One-Hour Workshop Teaching You the Formula for Building a High ROI Website
Like many seven or eight figure entrepreneurs, I'm a firm believer in the power of a website done right.
And I don't simply believe it because I've seen others accomplish the unexpected with a great site.
At my agency Express Writers, our website is our #1 vehicle for growth. Over the last 10 years, we've landed 5,000+ happy clients and made it to consistent seven figures per year.
What's amazing is we have never spent a single cent on ads. (Yup! We did it all through our superpower site + stellar content.)
Now, my goal is to share the secrets behind a website like ours with you.
That's exactly why I decided to create the Learn to Build & Launch a Website workshop.
Inside, I won't throw a 500-page textbook packed with jargon and generic advice at you. (That would totally suck.)
Instead, I'll take you behind-the-scenes of my content agency's well-optimized site and share with you how we earn $100,000+/month without a single ad.
I'll also show you:
The proven-and-tested four steps I follow every time I build a new site
The essential ingredients you should never miss out on when building your site (miss just one of these and your site will fall flat on its face)
How to make sure your website content isn't part of the 90% of content that gets ignored
How to get your site found on Google without a single ad
What you should do if you don't want to build a site yourself (I always hire great people to help me, but the truth is, finding the right candidate can turn out to be harder than building a site yourself)
And so much more
What people love most about my courses is that they aren't just regurgitated, generic material.
I don't record a few videos, throw them at you, and leave you to figure out how to use them.
Instead, I aim to give you a personal experience.
That's why I make sure to include a workbook, real-life examples, guides, exercises, and cheat sheets, so the learning experience is all about you.

The same is true in the Learn to Build & Launch a Website workshop.
Plus, when you enroll, you get lifetime access to an exclusive members-only group. You can use it to interact with other entrepreneurs and freelancers, and get advice on your website at any time.
My promise to you with this workshop is that in only one hour, you'll learn all the essential ingredients you need to build a powerful, lead-and-client generating website you can be 100% proud of.
Hi! I'm Julia McCoy, Owner of 15+ Revenue-Producing Websites

I know, I know.
You can hop on Google, type, "How to build a website," and get a ton of free advice.
If that's the step you want to take, it's totally fine.
But let me ask you this.
Do you really want to waste a ton of time building a generic website that probably won't work to pull in a ton of hot leads and clients?
If you're an entrepreneur like me, you'd probably say no.
You don't want a website that does nothing but sit prettily on the side. You're smart… and I've got your back. If you want real advice on how to build a superpower site, I'd love to help. (I'm a bit addicted… I own 15+ revenue-producing domains by now. 😜 ) How's that for a mentor?
In the How to Build & Launch a Website one-hour workshop, I'm opening my doors and sharing with you the secrets behind my 7-figure sites.

Case Study:
$5,369,801 in 10 Years? (A True Story)
Earlier, I asked you if you would spend $200 for the chance to make $5 million in the next 10 years.
Here's the thing.
Those figures aren't a joke or a hyperbole.
They're my story.
You see, way back in 2011, I built my first website on nothing but $75.
Since then, I've never paid for a single ad.
Yup.
Zero ads. Zero trade shows. Zero webinar funnels. Zero events.
Instead, I used my site and strategic organic content as my only vehicles for growth.
The result?
A decade later:
$4,999,801+ from my first brand, Express Writers
$370,000+ from my newer second brand, The Content Hacker
Sound crazy?
I know. I sometimes catch myself with my jaw down, wondering if I really did all this with nothing but a $75 investment.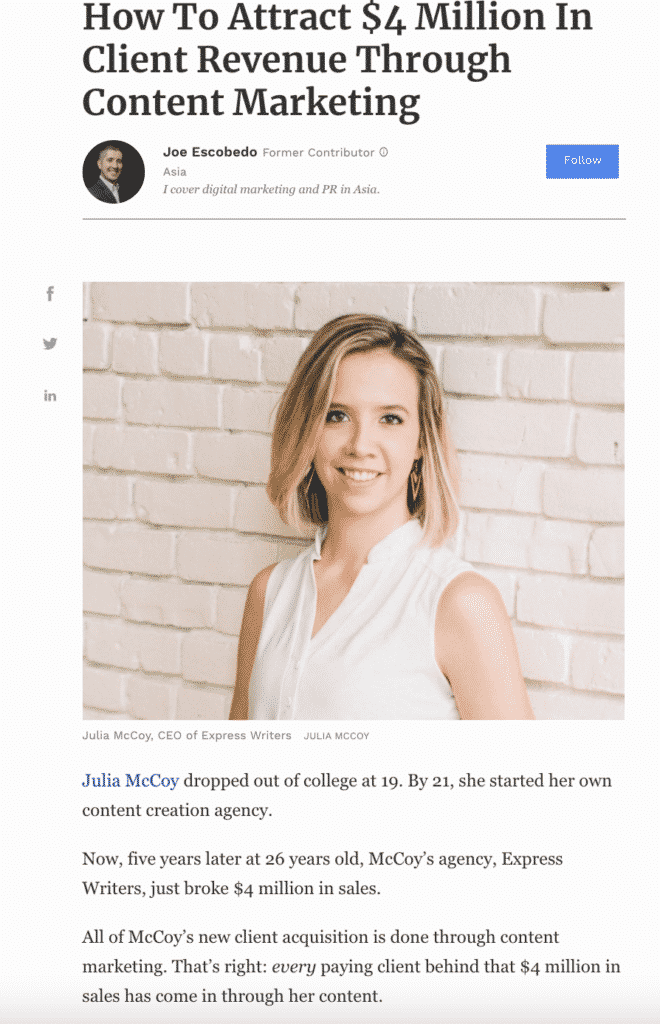 Forbes even picked up my story of growing Express Writers with nothing but great content.
And the truth is, you can do it too.
In a much shorter time.
You see, I didn't always have the keys to a stellar website. It took me years and a ton of tweaks and optimization to figure out what works and what doesn't.
You can skip all that guesswork through my workshop, and make as much as I did in less the time.
So, let's say you start out with $200.
In the next 10 (or much less) years, you make back $5,369,801 (or more).
Will it be worthwhile to you?
You bet it will.
Say yes.

What Students Say About The Content Hacker™ Academy

A Sneak Peek Into the How to Build & Launch a Website Workshop

When you enroll in the How to Build & Launch a Website workshop, you'll get instant lifetime access to the one-hour training workshop. You'll also get a downloadable workbook, cheat sheets, examples, guides, and everything you need to build a website that works from scratch.
Here's a quick look inside the workshop:
Introduction video. I give you pointers on what to expect and how you can best use the workshop.
Why Your Website Is Like a House: How to Grow a Mindset of Love for Your Website. In this video, I show you the proper mindset for websites that work. Skip this and your website is doomed to fail.
The 4-Step Guide to Getting a Great Website Together. The secret steps I used to build my lead-and-client generating websites.
Rolodex of Who to Hire. Want to be 100% sure you're hiring the right person to build your site? In this video, I give you a list of the people I personally hire to help me with my sites. (This includes my designer, SEO, and CRO.)
Tools & Plugins to Get to Manage SEO List Building, Content Promotion & More. The secrets to working less and getting better results through superstar tools.
Why Websites Go Wrong…And How to Make Sure Yours Doesn't. Tips, tricks, and techniques that ensure your website doesn't fall flat on its face.

How to Build & Launch a Website: Learn the Secrets Behind Seven-Figure Websites (Workshop)
$27
ONE-TIME PAYMENT
One-hour video training class complete with downloadable guides, references, and a student workbook
Learn the secrets behind powerful seven-figure websites & an inner look with Julia at the backend of her sites
Workshop recorded by Julia, produced by our video team
Private student group with lifetime access to Julia
Lifetime student community & workshop access

The Content Hacker™ Satisfaction Guarantee
We offer a 7-day money-back guarantee. We want you to take zero percent of the risk — we're taking all of it! But, this workshop isn't for students who plan to binge-watch all the videos and download all the materials, or simply get their toes wet and "see" without commitment, then decide to ask us for their money back.
To receive our 100% money-back guarantee, there is a requirement: you'll have to study the whole workshop and complete all the exercises. If you put serious work ethic into it and still don't see improvement in your writing, you're entitled to a full refund.
That being said, I'm super confident this won't happen. When you go through the course, watch the videos, and do the exercises, YOU WILL learn how to build a website that works. Guaranteed!
Cheers to you! See you on the other side of success – Julia